BIG June Events!
RLC Prom 2018

June 28th at 4 pm PST at the Fantasy Hotel

Are you a Sinner, or a Saint?


** VOTE NOW for your Prom King and Queen **

https://www.redlightcenter.com/prom/


Show us your wings, halos, horns! Come dance the evening away
in heaven or hell as Jazy plays the tunes to make your Prom memorable!
You could also win a free 30 day VIP, or even some rays!
Lovely Sponsor Prizes will also be randomly given out.
Get a complimentary picture to remember the night always, and of course..
the crowning of the Court! Be sure to nominate your favorite, and vote!
See you at the Prom!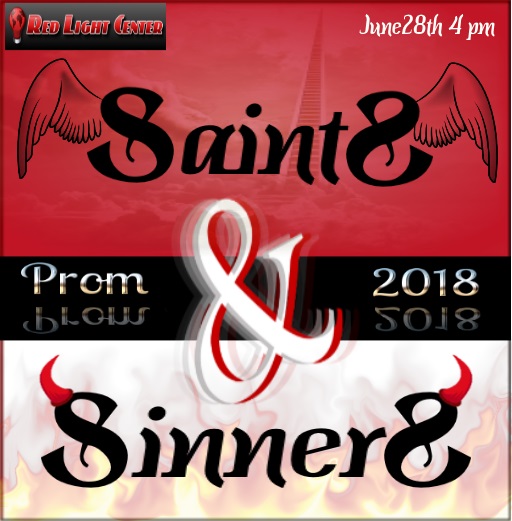 PROM - Rules & Regulations

All nominations have to be sent via regular email to events@redlightcenter.com
Profile messages will not be considered.
Send your nomination from June 04-13.
Voting is open from June 15-27, Midnight PST.

To vote please click here (link follows when voting is open)

Every member has 1 vote for Prom Royalty

You can nominate / vote for: King & Queen / King & King / Queen & Queen.

The top 10 nominees for Prom Royalty will be listed at the Voting pages.

The members with the most votes will be PROM King and Queen (King/King or Queen/Queen)
The second place will be PROM Prince and Princess (Prince/Prince or Princess/Princess)
The third place will be PROM Duke and Duchess (Duke/Duke or Duchess/Duchess)

For Prom King, you can be nominated if your profile shows you as Male or TG Male.

For Prom Queen, you can be nominated if your profile shows you as Female or TG Female.

Nominations that don't meet the gender requirements, or are in doubt for the gender, will result in a forfeit.
Current Weekly Events
Monday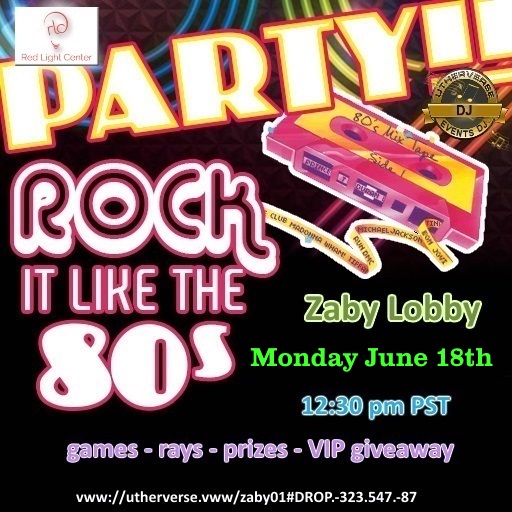 Monday June 18th 12:30 pm PST

80"s Party Event at the Zaby Lobby !

~ Games ~ Rays ~ Sponsor Prizes ~

* Tam_Desade_Peep is bringing the Tunes and taking your Requests! *

~ Sponsors for this Event are ~ Mir Fashion ~ and ~ Monic Designs ~

* Big Prize Sponsosr for this Event are ~ Pheebs Designs ~ and ~ a Layout from Lycan Designs ~

~ One BASIC Member will win a Free 30 Day VIP ~

~*~ vww://utherverse.vww/zaby01#DROP.-323.547.-87 ~*~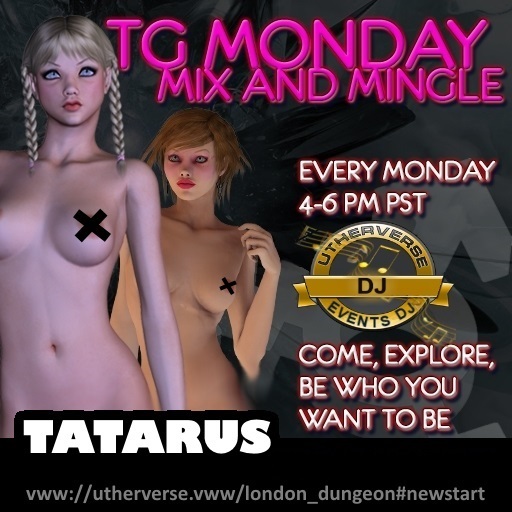 Monday June 18th 4 pm PST

TG Monday Mix and Mingle at Tatarus with Exotica Dance Team!

~ Games ~ Rays ~ Sponsor Prizes ~ VIP Giveaway ~

* VP_DiSrPtD_RWC is bringing the Tunes and taking your Requests! *

~ Sponsors for this Event are ~ Blue Heaven Design ~ Emberotic Fashion Designs ~ and ~ Exotica ~

**One Member will win a Free 30 Day VIP **

~*~ vww://utherverse.vww/london_dungeon ~*~
Tuesday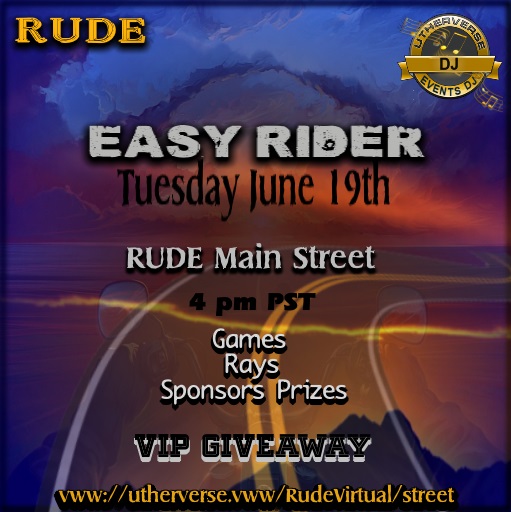 Tuesday June 19th 4 pm PST

Easy Rider Party on RUDE Street with Exotica Dance Team!

~ Games ~ Rays ~ All BIG Prizes! ~

* VP_DiSrPtD_RWC is bringing the Tunes and taking your Requests! *

~Sponsor for this event is ~ Exotica ~

~ BIG Prize Sponsors for this event are ~ NL Fashion ~ and ~ a Layout from Zabys By Design ~

~*~ vww://utherverse.vww/RudeVirtual/street ~*~
Wednesday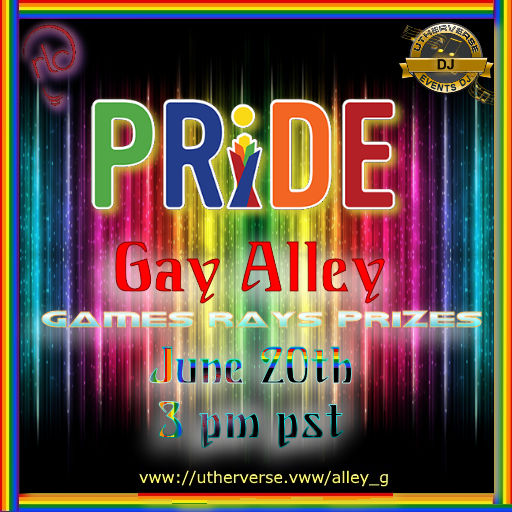 Wednesday January 20th 3pm PST

Gay Pride Month Celebration Event in Gay Alley!

~ Come join us for all the fun and games and help us celebrate! ~

* ray giveaways * ~ All BIG Sponsor Prizes! ~

~ MystikMoon will be playing the tunes and taking your requests ~

*~ Big Prize Sponsors are ~ Virtual Pride with a Zaby Layout ~ and ~ a Layout from the Layout Factory ~

*~* vww://utherverse.vww/alley_g *~*
Thursday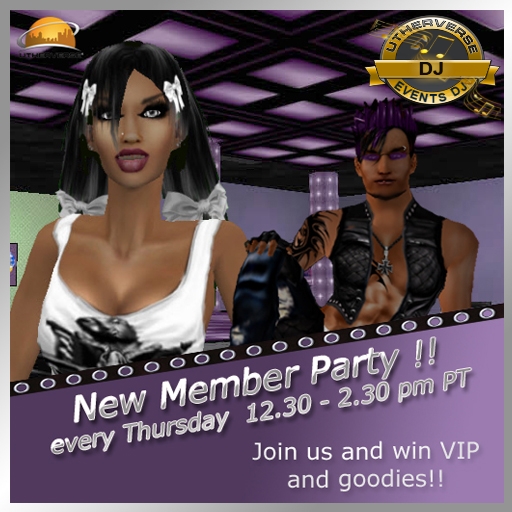 Thursday June 21st 12:30 pm PST

New Members... this event is for you!

Please join us at the New Member Welcome Club ~ just enter through the Welcome Center

* Ask your questions, learn about RLC, win some rays! and make some friends! *

~ DJ_money will be playing the tunes and taking your requests ~

** One lucky BASIC member will win a free 30 day VIP! **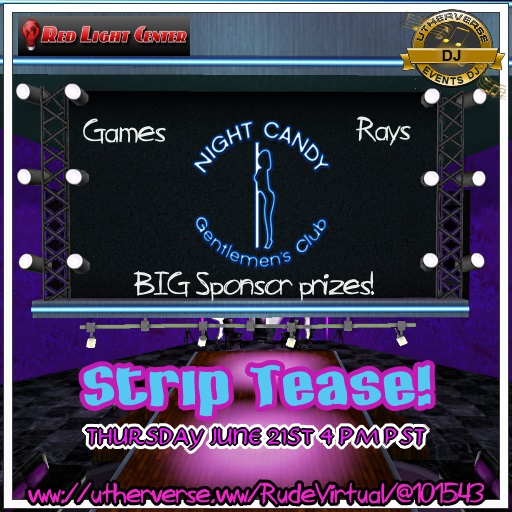 Thursday June 21st at 4 pm PST

Strip Tease @ Night Candy with The Blackhearts Dance Team!

~ Games ~ Rays ~ Sponsor Prizes! ~ One Member will win a Free 30 Day VIP! ~

* Wicked_INC is bringing the Tunes and taking your Requests! *

~Sponsors for this event are ~ Twisted Cub Designs ~ and ~ The Blackhearts ~

~ BIG Prize Sponsor for this event is ~ Twilight Designs ~

~*~ vww://utherverse.vww/@284212 ~*~





Friday
Saturday
Sunday
Event Sponsors